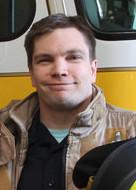 I'm Joshua Hunter. I'm a husband, father, programmer, and volunteer firefighter. I'm lucky enough to live with my family and our dog on beautiful Fidalgo Island.
Work
I'm a full time software developer for Dataworks Development. We make Freezerworks, a laboratory sample management program for researchers of all types. We make a client/server application written in 4D. 4D is RAD with built-in database. Think MS Access on steroids. I designed our ReST API which uses the Siren hypermedia format and has interactive docs built with Swagger. The API powers our web client and gives me the chance to write HTML 5, CSS, and Javascript with AngularJS and Kendo.
I also take on contract work. Databases, automation, workflows, integration, and websites. I really like helping businesses get their work done faster and with fewer errors. If you have a problem that needs fixing please get in touch.
Fire
Looking for a way to give back to my community I joined the Mt Erie Fire Department in 2012. I'm currently a lieutenant, IFSAC Firefighter I, EMT-B, and wildland firefighter. We handle about 300 calls per year. Mostly medical, but with a good mix of vehicle incidents, wild fires, hazmat, and structure fires.
I enjoy the training and the work. You'd be hard pressed to find a better group of people to spend the most challenging hours of your life with. Why so many of those hours have to be 3 AM, I can't say.
Fun
In addition to firefighting (nothing is more fun than fighting a structure fire) I'm also a bit of technology nerd. I write 4D for work and Python for fun. Most of my side projects are simple tools that solve a problem for myself or a family member. I've been using Python since 2005 after learning Perl and haven't found anything I like better.
When not coding or at the station I love the outdoors. Hiking and kayaking primarily. We live in one of the most beautiful parts of the world and I never pass up a chance to explore it.